GIVEAWAY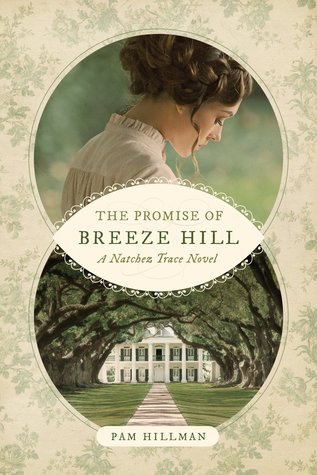 HILLMAN, PAM
THE PROMISE OF BREEZE HILL : A NATCHEZ TRACE NOVEL
Natchez, MS -- 1791
Anxious for his brothers to join him on the rugged frontier along the Mississippi River, Connor O'Shea has no choice but to indenture himself as a carpenter in exchange for their passage from Ireland. But when he's sold to Isabella Bartholomew of Breeze Hill Plantation, Connor fears he'll repeat past mistakes, so he vows not to be tempted by the lovely lady.
The responsibilities of running Breeze Hill have fallen on Isabella's shoulders after a suspicious fire devastated their crops, almost destroyed their home, and left her father seriously injured. Even with Connor's help, and her growing feelings for the handsome Irish carpenter, Isabella fears she'll lose her family's plantation.
Soon, though, Connor realizes someone is out to eliminate the Bartholomew family. Can he set aside his own feelings to keep Isabella safe?
My Review:
Gobsmacked doesn't even begin to describe the way I'm feeling right now as I sit in a discombobulated 'the-morning-after-a-frenzied-reading-night' stupor. I only have two words.
Connor O'Shea.
Give me a moment to rally my sensibilities, but you might have to move my dog-eared copy of
Breeze Hill
to another room so I'm not tempted to...rats...just a sec while I read a particularly toe-curling moment over again.
Blissful sigh. Okay, I'm back. Goodness, that Connor!(insert fangirl swooning emoji here.) Hero of my heart. Masterful, compassionate, noble in spirit. A man with a work ethic and passion for family. And protective. Oh, someone pass me the smelling salts, the opportunities he has to go all protective on Miss Isabella Bartholomew...rats, wait a sec, I need to re-read a particularly swoonworthy rescue.
Okay, I'm back..for now. I can't seem to stop myself from reading the tantalizing bits over again...which is pretty much the whole book so you see my dilemma. And did I mention Connor is Irish (in case you didn't clue in by his name) but I mean, almost fresh off the boat Irish so he still has the brogue. Set my heart afluttering every time he spoke -- even when he was being an 'eejit.'
Isabella is a tad impetuous and stubborn and used to running things so there's bound to be some clashing when Connor starts taking initiative -- and sometimes issuing commands that don't go over very well. I do so love an independent-thinking heroine. She's changed a lot in a year of hardship -- grown and stretched in every way except in her faith. There's a lovely inspirational thread that follows Isabella's battles with God and her ultimate surrender to His higher power.
And a really intriguing aspect of this story is the way the element of suspense is handled. Only the reader knows right from the start who the villain is. The characters haven't a clue. So I was always on edge every time The Villain showed up and I'd try to warn Isabella with a "Bad guy alert!" But did she listen to me? Of course not! She's all sweet and nice and "Oh, do come in and visit awhile. Martha, bring us some tea, if you please." And there I am expiring on my fainting couch for all the wrong reasons because she's just led Danger into their midst. (cue the scary organ music)
Though it might not seem like it from this very Connor-centric review, there is an astounding cast of secondary characters -- both good and pure evil -- that bring an even deeper dimension to an already amazing story. And the history is fascinating. I don't know a whole lot about this era and particularly this part of America so the setting added even more to my reading pleasure.
And when the story came to an end as all good books inevitably do, I was left bereft because Connor chose Isabella not me (shuddering sigh)...but...wait, he has brothers and the next book is about....yoohoo, Quinn, we haven't met yet but I'm about to fall deeply in love with you...(I'm so fickle!)
GIVEAWAY OPPORTUNITY:
If you would like a chance to win a copy of The Promise of Breeze Hill (and goodness, why wouldn't you?!) leave a comment below or email me at kavluvstoreadATyahooDOTca. If you add your email to a comment remember to use AT and DOT instead of @ and . in order to protect yourself from spammers. If you enter the draw via email please add the title to the subject line so it's easier for me to spot your entry. Draw will be held and winner announced on Sunday September 17 2017. Offer open to International Readers. Good luck.