GIVEAWAY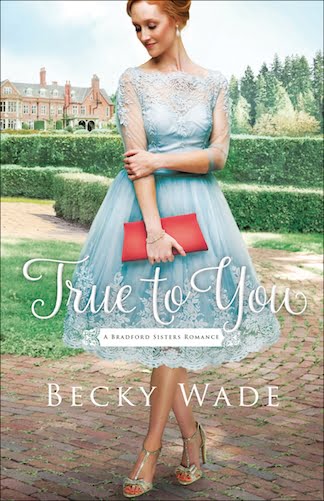 WADE, BECKY
TRUE TO YOU
After a devastating heartbreak three years ago, genealogist and historical village owner Nora Bradford decided that burying her nose in her work and her books is far safer than romance in the here and now.
Unlike Nora, former Navy SEAL John Lawson is a modern-day man, usually 100 percent focused on the present. However, when John, an adoptee, is diagnosed with an inherited condition, he's forced to dig into the secrets of his ancestry.
John enlists Nora's help to uncover the identity of his birth mother, and as they work side by side, this pair of opposites begins to suspect that they just might be a perfect match. But can their hope for a future survive their wounds from the past?
My Review:
Oh merciful heavens, I'm in such a tizzy over this one! In fact -- and this is totally a FIRST for me -- I actually read this book twice -- back to back. Literally reached the end and flipped it back open to the first chapter and started all over again. It tickled my fancy that much.
Why you ask? I think because I totally connected with Nora. Maybe more than that -- she's kind of my clone in some ways. In fact I think the author has created the most relatable heroine in romantic comedy history. A bit nerdy, she spends her nights fangirling over a fictional character in a British drama. I was so convinced that Adolphus Brook and Northamptonshire were actually real that I spent quite a while googling both to see what all the fuss was about. :-) In short, Nora is just like us, ladies! Enjoying romance vicariously through the heroines in stories.
And the whole thing starts off so snappy and funny and easy to read with plenty of laugh out loud moments. In fact the first time Nora meets John is sweet (and toe-curling) perfection. In fact she is so impressed with him that she uses her Ninja librarian skills to research him and then starts majorly crushing on him.
For his part, John is oblivious. Nora is a means to an end and if he feels some unusual zings in the air when she's around, well, he's not going acknowledge it...much. He just finds her quirky and a little intense...and when there's a clash of opinions -- well, "
redheaded librarians who use big words didn't scare him.
" (p.33) Ha! Dream on, oh clueless hero. There is such great dialogue and almost-dialogue between these two. Especially with Nora. John will ask her a question or make a comment and we are privy to her outrageous love-lorn inner comebacks before she manages to vocalize something benignly appropriate. Honestly, those bits just stuffed me full of giddy.
So there I am happily giggling my way through these pages when suddenly...shut the front door...what just happened? The author did not...she wouldn't...oh my goodness gracious, she did! Ms. Wade you have some explaining to do!!!!! And suddenly the romantic comedy has turned into something deep and desperate and achingly heart-wrenching and all I could do was silently (well, except for screaming insults at the author) watch helplessly on the sidelines.
Seriously. My heart hurts. But it's grown some too because I've learned some important lessons right along with John and Nora. Like:
"...the past might be challenging and the future might be unsure. And that's okay. The present is all we're given anyway.When we get to the future, God will be there."
(p 275)
And did I mention that this is only the first of the
Bradford Sisters Romance
series? The author has done an excellent job of setting up the future books which will feature Britt and Willow. I think I might just have to read
True to You
a couple of more times in anticipation.
GIVEAWAY OPPORTUNITY:
If you would like a chance to win a copy of True to You, leave a comment below or email me at kavluvstoreadATyahooDOTca. If you add your email in a comment, remember to use AT and DOT instead of @ and . in order to protect yourself from spammers. If you enter the draw via email, please add the title to the subject line so it's easier for me to spot your entry. Draw will be held and winner announced on Sunday September 10 2017. Offer open to International Readers. Good luck!