GIVEAWAY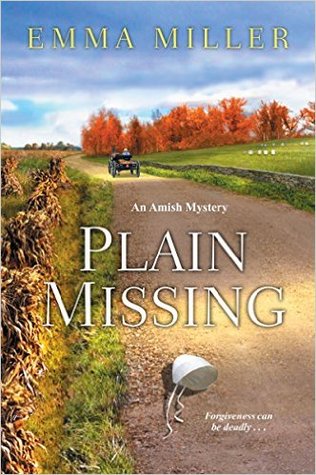 MILLER, EMMA
PLAIN MISSING
Inn owner Rachel Mast is no longer a devout member of the Amish community of Stone Mill, Pennsylvania, but she still cares deeply for them. So she's staying at her family's farm to help her mother through an illness -- and at the same time, trying to track down two missing people...
When the young gather to sing, it's usually an evening of wholesome fun -- but this time, the event has stirred whispers of scandal. Elsie Hostetler and her sweetheart, Datha Bender, never came home afterward. There's not even a trace of their horse and wagon, leading some to suspect that they've run off to marry and join the Englisch world.
But Rachel fears there's more to the story than a rebellious elopement. Her fiance, a state trooper, is out of town, so she starts investigating herself., using her Amish background to pry information from the tight-lipped community. It turns out things were not so peaceful between Elsie and Dathan -- and there was also a confrontation at the singing with a short-tempered ex-Marine. Among the simple houses and quiet country roads of Stone Mill, Rachel must find out just what kind of sins have been committed -- and who is in need of forgiveness...
My Review:
I love this series! I love Rachel and her crazy cat and unique friends and the interesting characters that make up Stone Mill -- both Amish and
Englisch
. This is the fourth book in
An Amish Mystery
series but reads very well as a standalone. The only thing that carries over from one book to the next is the romance so Rachel is now engaged to the possible love interest in the first book. :-)
The mystery is heart wrenching and all too close to home. Rachel can't rest until she finds the answers her grieving community needs. Over time, she has gained the trust of her Amish neighbours who are more willing to talk to her than the police -- though not by much! But Rachel is nothing if not dogged and she's not about to give up. And neither is her Amish cousin, Mary Aaron, who makes a great sidekick.
This book has a bit more of a serious feel to it, though there are still plenty of quips and laughs too. There's a wonderful inspirational thread about finding spiritual peace in the hard times as Rachel begins to find a balance between her Amish and
Englisch
worlds.
But it is the relationship between Rachel and her mother that touched me the most. Though Rachel left the Amish over fifteen years ago, her mother has had a difficult time adjusting to the loss. If you've been following the series you'll have more of a feel for their relationship as their attempts to reconnect have slowly developed throughout the books and I was actually moved to tears at the end of this one!
Sweet perfection in a cozy mystery with an Amish twist!
GIVEAWAY OPPORTUNITY:
If you would like a chance to win a copy of Plain Missing, leave a comment below or email me at kavluvstoreadATyahooDOTca. If you leave your email in a comment, remember to use AT and DOT instead of @ and . in order to protect yourself from spammers. If you enter the draw via email, please add the title to the subject line so it's easier for me to spot your entry. Draw will be held and winner announced on Sunday October 1 2017. Offers open to International Readers. Good luck!