GIVEAWAY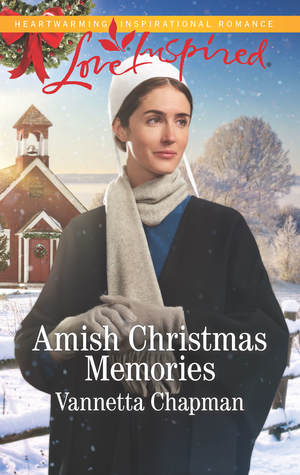 CHAPMAN, VANNETTA
AMISH CHRISTMAS MEMORIES
All she wants for Christmas is her memories : An Indiana Brides book
When a young Amish woman collapses in the snow shortly before Christmas, Caleb Wittmer rushes to her aid. Only, "Rachel" remembers nothing of who she is. Now his family has taken in the pretty stranger, disrupting Caleb's ordered world. He's determined to find out where she belongs...even if Rachel's departure means saying goodbye to his old-fashioned heart forever.
My Review:
Let's deal with the elephant in the room right from the start. Another
Love Inspired
amnesia story! Seems I've been reading a ton of them this year and while I do enjoy a well-written one that brings a fresh twist or insight to this plot device, I'm beginning to feel a tad overwhelmed.
Having said that I LOVED
Amish Christmas Memories
so I guess that proves you can never have too much of a good thing. Though, honestly, if it hadn't been written by Vannetta Chapman I might have given it a pass. So glad I didn't though! Chapman handles the amnesia aspect of the story really well -- from the moment Caleb spots Rachel staggering down the road to the page-turning mystery of who she is and how she came to be in her present situation. (FYI -- when I say mystery, I don't mean suspense, just the kind of rabid-reader-wants-to-know-everything-now kind of mystique that surrounds Rachel.)
And can we all pause for a moment of appreciation for those difficult, brooding, bordering-on-grumpy heroes we so adore? Mind you, if I met Caleb in real life I might have clobbered him with the business side of a frying pan! But I find him so alluring in fine print! lol. I guess because a reader can see his thoughts so we understand that he's more bumbling and inept than downright crabby. And when that man starts talking it doesn't take long for him to stick both feet in his mouth which did have me grinning. Especially when it riled Rachel's feisty up! Great dynamics between these two. I love how their romance unfolded in fits and starts and wary advances. Delicious!
GIVEAWAY OPPORTUNITY:
If you would like a chance to win a copy of Amish Christmas Memories, leave a comment below or email me at kavluvstoreadATyahooDOTca. If you add an email to your comment, remember to use AT and DOT instead of @ and . to protect yourself from spammers. If you enter the draw via email, please add the title to the subject line so it's easy to spot your entry. Draw will be held and winner announced on Sunday December 2 2018. Offer open to International Readers. Good luck!