GIVEAWAY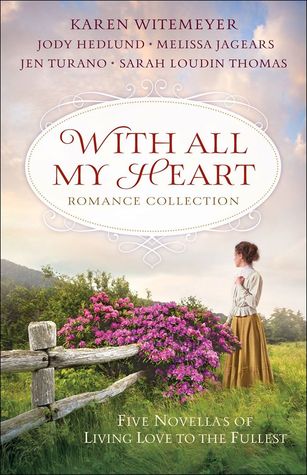 WITEMEYER, KATE
HEDLUND, JODY
JAGEARS, MELISSA
TURANO, JEN
THOMAS, SARAH LOUDIN
WITH ALL MY HEART
Take a Journey Across America and through time in this heart-warming collection of novellas from your favourite historical romance writers.
Originally released only as ebooks novellas -- moving, fun, faith-filled, and always deeply romantic -- now find print for the first time.
My Review:
While this collection was published in 2016, the actual copyright dates of each novella range from 2012-2015. From what I can figure out, each novella was an ebook introduction to a new series by each author. So though you might recognize some of these stories, this is a chance to have these wonderful novellas all in one print collection.
Karen Witemeyer's Love on the Mend --
The central theme of forgiveness gives this novella a deeply thought-provoking quality. Of course, it's also laced with humour, we're talking Karen Witemyer, after all. And action. And a toe-curling romance between a broody hero and a plucky heroine who isn't afraid to speak her mind. The perfect blend for reader satisfaction.
Jody Hedlund's Out of the Storm --
The first lighthouse story in the
Beacons of Hope
series! Henry is a worldly irrepressible rogue and Isabelle is a very sheltered young woman who lives in her over protective father's shadow. Secrets threaten to keep these star-crossed lovers apart unless they can find the faith to face an uncertain future together.
Melissa Jagear's Love by the Letter
-- There's definitely a BIG twist to this mail-order bride story! Perfect blend of comedy and drama. Dex is a wee bit bumbling in the romance department. Rachael is worn out from pining over an impossible love. Cue the fireworks when these two are thrown together in an unexpected way. A tender and funny love story guaranteed to make your smile.
Jen Turano's Gentleman of her Dreams
-- Charlotte and Henry have been best friends since they were in the schoolroom -- only when feelings blossom into love for both of them neither is willing to make the first move. Talk about wanting to knock some heads together! :-) She's a force to be reckoned with even though she doesn't always think things through which leads to disastrous -- and hilarious -- results. Stalwart Henry is her longsuffering wingman. Love + Laughter = Happily Ever After...eventually!
Sarah Loudin Thomas's Appalachian Serenade
--
Robert and Delilah have both nearly given up on love when circumstances throw them together. A gentle story that explores the concept of placing trust in God's hands and thereby learning to 'think outside the box' when it comes to what family means. Love matters. Sharing matters. Trusting God matters most of all.
GIVEAWAY OPPORTUNITY:
If you would like a chance to win a copy of With All My Heart, leave a comment below or email me at kavluvstoreadATyahooDOTca. If you add your email to your comment, remember to use AT and DOT instead of @ and . in order to protect yourself from spammers. If you enter the draw via email, please add the title to the subject line in order to make it easier for me to spot your entry. Draw will be held and winner announced on Sunday August 27 2017. Offer open to International Readers. Good luck!