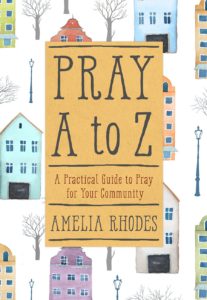 RHODES, AMELIA
PRAY A TO Z : A PRACTICAL GUIDE TO PRAY FOR YOUR COMMUNITY
Change the world one prayer at a time
How would our community change if instead of absently saying, "I'll pray for you," we actually did pray -- deeply, intensely, and purposefully?
Pray A to Z will help you topically organize prayer requests and lay those burdens at the feet of your heavenly Father.
With compassion and encouragement, Amelia Rhodes offers Bible verses and prayer prompts, organized topically for every letter of the alphabet. There are five topics for each letter -- three prayers of petition asking God to work in a certain area of need, and two more prayers of praise that reflect gratitude for God's presence in the daily issues and relationships of life. Through petition and praise, your specific, focused communion with God will lighten your heart as you place the heaviness of those prayer requests where thy belong -- on His strong shoulders.
My Review:
An encouraging little book that has the power to change your prayer life. Would make a great gift for someone new to the faith. The author has divided a myriad of community based prayer prompts for easy access in alphabetical order. A gem of a resource that embraces every kind of issue people come across in community -- violence, estranged relationships, law enforcement, nature care, grieving...the list goes on. Each topic is headed by a corresponding scripture, suggestions for how to pray over that issue and then a concise prayer you can use as a prompt. A really unique idea and could easily be used as a daily devotional.
I've recently finished participating in a women's bible study on prayer and I'm trying to broaden and deepen my conversations with God so this book showed up in my mailbox at the perfect time. I've been reading one page a day and then endeavoring to add my own petition to the Lord about the day's issue. This book has been a great encouragement as I work at making my own prayers more meaningful.
My thanks to Litfuse Publicity Group and Worthy Inspired for providing me with a copy of this book.