GIVEAWAY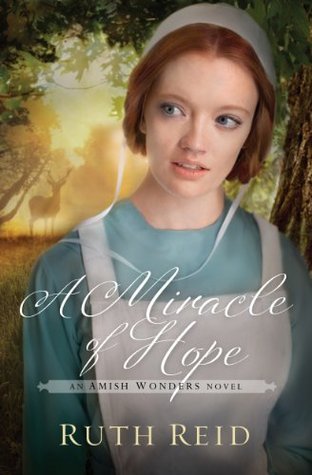 REID, RUTH
A MIRACLE OF HOPE
Lindie Wyse is pregnant out of wedlock and thinks an arranged marriage is the only way to preserve her future. Josiah Plank is certain he'll never love again, but he needs someone to care for his eight-year-old daughter, Hannah. The two take on their arrangement tentatively at first but soon realize they are each in for more than they imagined.
Lindie experiences a breakthrough with Hannah when she recognizes Hannah's special gifts, but a risky pregnancy and serious health issues threaten to demolish the foundation Josiah and Lindie are building. How far can God's mercy reach? Will their growing love survive despite their struggles, or will their hearts become as cold as the northern winter?
My Review:
published in 2014
My thanks to my public library for providing me with this amazing retro read!
Amish marriage of convenience story with heart and hope!
And so sweetly tender! It's in the way Josiah gently pursues Lindie and how her lukewarm response slowly heats up. And in the way Lindie is able to reach her silent, withdrawn step-daughter. It's a struggle, filled with lots of mistakes and heartache but I found myself holding my breath, getting excited over the slightest breakthrough. And that sweet tenderness even comes through in the developing relationship Lindie has with her husband's former father-in-law who lives with them. He's terse and unwelcoming at first but slowly thaws as the story progresses.Such wonderful family dynamics and Reid really captures the tremulous uncertainty that comes with this kind of second chance romance.
"Warmth spread through Josiah's core. Lindie offered Hannah exactly what she needed -- a mother's embrace -- a gift of love that couldn't be bought or made."
(p 291)
But there's a whole lot more going on here than romance. Both Lindie and Josiah have secrets that the author isn't in any hurry to reveal. She hints and teases, leaving lots of leeway for the reader to try and fit the pieces together and when all is revealed -- Whoa!!!!!! And the Northern Michigan Amish community is a new locale for me so that adds to the appeal as well. But what completely captured my heart is the compelling inspirational thread cleverly woven throughout. So much hope in God's mercy and trust that '
joy comes with the morning
'. (Psalm 30:5)
GIVEAWAY OPPORTUNITY:
If you would like the chance to win a copy of A Miracle of hope, leave a comment below or email me at kavluvstoreadATyahooDOTca. If you add your email to a comment, remember to use AT and DOT instead of @ and . in order to protect yourself from spammers. If you enter the draw via email, please add the title to the subject line so it's easy to spot your entry. Draw will be held and winner announced on Sunday October 7 2018. Offer open to International Readers. Good luck!