GIVEAWAY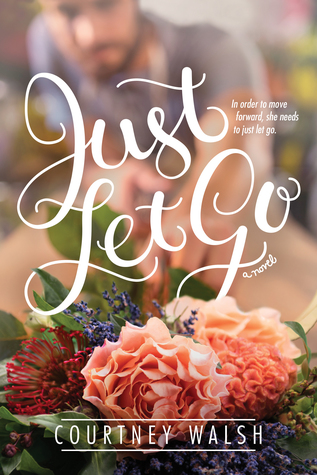 WALSH, COURTNEY
JUST LET GO
For Quinn Collins, just buying the flower shop in downtown Harbor Point fulfills a childhood dream, but also gives her the chance to stick it to her mom, who owned the store before skipping town twenty years ago never looking back. Completing much needed renovations, however, while also competing for a prestigious flower competition with her mother the head judge, soon has Quinn in over her head. Not that she'd ever ask for help.
Luckily, she may not need to. Quinn's father and his meddling friends find the perfect solution in notorious Olympic skier Grady Benson, who had only planned on passing through the old-fashioned lakeside town. But when a heated confrontation leads to property damage, helping Quinn as a community-service sentence seems like the quickest way out -- and the best way to avoid more negative press.
Quinn finds Grady reckless and entitled; he thinks she's uptight and too regimented. Yet as the two beginners n to hammer and saw, Quinn sees glimpses of the vulnerability behind the bravado, and Grady learns from her passion and determination, qualities he seems to have lost along the way. But when a well-intentioned omission has devastating consequences, Grady finds himself cast out of town -- and Quinn's life -- possibly forever. Forced to face the hurt holding her back, Quinn must finally let go or risk missing out on the adventure of a lifetime.
My Review:
"Sometimes we have to get out of our comfort zone in order to see what God has for us." (P 260)
Courtney Walsh delivers another emotional blockbuster! The kind that keeps a reader awake into the wee hours of the morning wrestling with love and loss and all the other complicated stuff life brings our way. This author knows how to keep it real but no matter how messy it gets, she always shines the light of Christ into the darkest places.
Phew! Be prepared to be uncomfortable. To want to throttle certain characters while extending bone crushing hugs to others. And sometimes — quite a bit actually — a reader might get the urge to full-on throttle-hug a certain character...or two...though, honestly, it was Quinn who gave me the most grief.
A prisoner of her past, she "sees everyone through a lens of brokenness" (p 174) — Miss Susie Sunshine she is not. Grady finds her maddening...and that isn't always a bad thing. An unsuspecting reader might get singed when these two face off so consider yourself warned.
And isn't there just something about a bad boy in the process of change that sets a reader's senses all awhirl?! I liked Grady right from the start even when he was in full cocky, smirking, entitled mode. It's a talented author who can make a flawed hero like this one so relatable..
These two are in for a world of heartache and challenges as they discover more about themselves and each other. Luckily there's a bounty of friends and family to help them along the way. A riveting contemporary romance wrapped up in faith.
"Sometimes our biggest setbacks turn out to be our greatest blessings." (P 260)
GIVEAWAY OPPORTUNITY:
If you would like a chance to win a copy of Just Let Go, leave a comment below or email me at kavluvstoreadATyahooDOTca. If you add an email to your comment, remember to use AT and DOT instead of @ and . in order to protect yourself from spammers. If you enter the draw via email, please add the title to the subject line so it's easy to spot your entry. Draw will be held and winner announced on Sunday October 28 2018. Offer open to International Readers. Good luck!