GIVEAWAY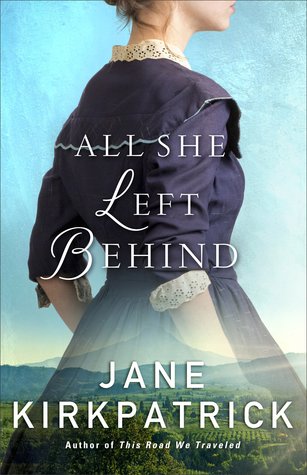 KIRKPATRICK, JANE
ALL SHE LEFT BEHIND
Already well-versed in the natural healing properties of herbs and oils, Jennie Pickett longs to become a doctor. But the Oregon frontier of the 1870s is an unforgiving place -- especially for a single mother. To support herself and her young son, Jennie finds work caring for an older woman. When her patient dies, Jennie discovers that her heart has become entangled with the woman's widowed husband, a many many years her senior. Their unlikely romance may lead her to her ultimate goal -- but the road forward is uncertain.
New York Times bestselling author Jane Kirkpatrick invites you to leave behind your preconceived notions about love and life as you, along with Jennie, discover that dreams may be deferred -- but they never really die. Based on a true story.
My Review:
Jane Kirkpatrick finds the most interesting true-life heroines to highlight in her fictional biographies. Lesser known women who have lived exemplary lives. Women who define the pioneering spirit. Women like Jennie Pickett.
I'm astounded at everything she went through and what she accomplished despite so many hardships. An intelligent woman with a learning disability that made reading difficult who becomes a doctor? That's something to shout about in this day and age but in the late 1800s it's inconceivable. And Jennie's story is rife with emotional ups and downs though she remains steadfast in her faith.
Captivating, compelling and mind boggling. If you enjoy biographies of strong women who make a difference while overcoming insurmountable odds then this is definitely the book for you.
Book provided courtesy of Baker Publishing Group and Graf-Martin Communications Inc.
GIVEAWAY OPPORTUNITY:
If you would like a chance to win a copy of All She Left Behind, leave a comment below or email me at kavluvstoreadATyahooDOTca. If you leave your email in a comment, remember to use AT and DOT instead of @ and . in order to protect yourself from spammers. If you enter the draw via email, please add the title to the subject line so it's easy for me to spot your entry. Draw will be held and winner announced on Sunday November 26 2017. Offer open to International Readers. Good luck!