GIVEAWAY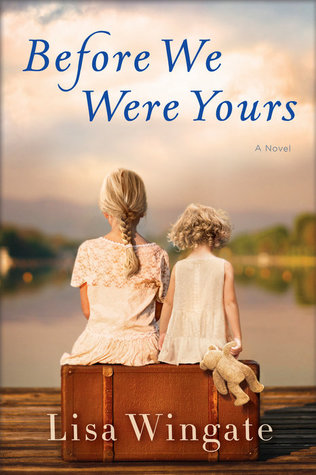 WINGATE, LISA
BEFORE WE WERE YOURS
In this poignant novel, inspired by a true story, two families generations apart are forever changed by a heartbreaking injustice.
Memphis, 1939. Twelve-year-old Rill Foss and her four younger siblings live a magical life aboard their family's Mississippi River shantyboat. But when their father must rush their mother to the hospital one stormy night, Bill is left in charge -- until strangers arrive in force. Wrenched from all that is familiar and thrown into a Tennessee Children's Home Society orphanage, the Foss children are assured that they will soon be returned to their parents -- but they quickly realize the dark truth. At the mercy of the facility's cruel director, Rill fights to keep her sisters and brother together in a world of danger and uncertainty.
Aiken, South Carolina, present day. Born into wealth and privilege, Avery Stafford seems to have it all: a successful career as a federal prosecutor, a handsome fiance, and a lavish wedding on the horizon. But when Avery returns home to help her father weather a health crisis, a chance encounter leaves her with uncomfortable questions and compels her to take a journey through her family's long-hidden history, on a path that will ultimately lead either to devastation or to redemption.
Based on one of America's most notorious real-life scandals -- in which Georgia Tann, director of a Memphis based adoption organization, kidnapped and sold poor children to wealthy families all over the country -- Lisa Wingate's riveting, wrenching, and ultimately uplifting tale reminds us how even though the paths we take can lead to many places, the heart never forgets where we belong.
My Review:
Of note: This book was published by Ballantine Books -- so while not Christian Fiction, it is a clean read with a powerful message
I've been trying to write a review for days but I've been too shell-shocked. What a powerful story! It's heart-hurting and anger-stirring and I think I felt every definable emotion imaginable as I read
Before We Were Yours.
I'm grief-stricken over the fact that Rill's story is actually based on the real life stories of thousands of children. Georgia Tann was an unconscionable monster as far as I'm concerned. Treating children like commodities, selling them for her own profit with no thought of the agony their loving (but poor) families endured as a result. I'm appalled that this went on for a decade, that so many powerful and affluent people turned a blind eye, that anguished parents didn't have an advocate. And the things the children endured in these so called orphanages...my heart is still broken. To say this novel held me enthralled would be an understatement!
Exquisitely written -- I cherished the time I spent delving into Rill and Avery's stories. Lost myself in their lives. Dual timelines -- 1939 (Rill) and present day (Avery). And Lisa Wingate does an incredible job as she switches between poverty-stricken Rill's twelve-year-old point of view and affluent Avery's privileged one. And, oh my, the way their stories mesh together! Major goosebump and chill moments galore. And tears. I got choked up so many times and bawled like a baby at the end. I'm tearing up now just thinking back over this powerful story.
Before We Were Yours
is a hard story to read in places. But it's a hopeful one too. A celebration of the tenacity of the human spirit. The ability to overcome, to have the courage to face change and the heart to accept the truth. A stunning must-read that is taking the literary world by storm.
GIVEAWAY OPPORTUNITY:
This giveaway is in ebook format only
If you would like an opportunity to win
AN EBOOK
copy of Before We Were Yours, leave a comment below or email me at kavluvstoreadATyahooDOTca. If you add your email to a comment, remember to use AT and DOT instead of @ and . in order to protect yourself from spammers. If you enter the draw via email, please add the title to the subject line so it's easy to spot your entry. Draw will be held and winner announced on Sunday February 4 2018. Offer open to International Readers. Good luck!