GIVEAWAY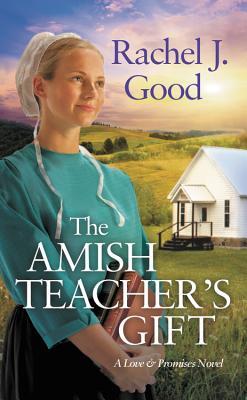 GOOD, RACHEL J.
THE AMISH TEACHER'S GIFT
A Teacher's Love...
Widower Josiah Yoder wants to be a good father. But it's not easy with a deaf young son who doesn't understand why his mamm isn't coming home. At a loss, Josiah enrolls Nathan in a special-needs school and is relieved to see his son immediately comforted by his new teacher, a woman whose sweet charm and gentle smile might be the balm they both need.
With seven siblings to care for, Ada Rupp wasn't sure she wanted to take on teaching, too. But the moment she holds Nathan in her arms, she realizes she'll do all she can to help this lost little boy. Plus, it gives her a chance to spend more time with Josiah. Falling for a man in mourning may be against the rules, but his quiet strength is the support Ada never knew she needed. And, together, they could have the loving family she'd always hoped for.
My Review:
Rachel J. Good has become one of my favourite Amish fiction authors. I just discovered her last year when I read her first two books in the
Sisters and Friends
series published with Realms and just discovered this new series with Hachette Book Group as well...not to mention a backlist to add to my retro reads TBR list! I'm in reader heaven!
So,
The Amish Teacher's Gift
is the first book in the
Love and Promises
series and I am well and truly smitten. The story totally captivated me! The hero, the heroine, the secondary characters, the community....I lost myself in another world for a spell and loved every second I spent there. And this is a step out of the ordinary from the usual Amish fare which contributed to my fascination. Because central to the story is the community's special-needs school.
The author does an incredible job of conveying the daily triumphs and despairs that come from working with these special scholars. It's all so true to life -- from the way calm can suddenly catapult into chaos to the piercing sweet exultation when a connection -- no matter how tenuous -- between teacher and student is made. The school scenes left me breathless from tears and laughter.
And there's Ada at the heart of it all. A young, untried teacher with a thirst for knowledge to help her special scholars reach their potential This isn't the first challenge Ada has taken on in her young life, and likely won't be the last. She's already mothering her younger siblings...all seven of them! But when one of her young students, a deaf boy, has even greater needs then she first thought, Ada's heart nearly bursts with the desire to do more. And that pretty much tells you about Ada. She's by no means perfect, doesn't pretend to have all the answers, but she does have a dogged determination that won't allow her to give up...even when a seemingly hostile parent might stand in the way.
Josiah's relationship with his son just about did me in. He's overwhelmed, doing the best he can without all the tools needed to communicate with his deaf son. Honestly, this pair gutted me. Both lost in their grief and confusion. My heart hurt for them. Josiah so out of his element but sincere in his desire to make things better and Nathan without the words or concepts to understand all the changes in his life. There were elements of Helen Keller and Annie Sullivan in this story that really touched me.
What a backdrop to develop a romance against! It's tentative and sweet and uttlerly impossible. They both know it and yet...Dreamy sigh!
A incredible start to a new series that delivers the right mix of laughter, tears and faith. Looking forward to the next book coming out in the fall.
GIVEAWAY OPPORTUNITY:
If you would like a chance to win a copy of The Amish Teacher's Gift, leave a comment below or email me at kavluvstoreadATyahooDOTca If you add your email to a comment, remember to use AT and DOT instead of @ and . in order to protect yourself from spammers. If you enter the draw via email, please add the title to the subject line so it's easy to spot your entry. Draw will be held and winner announced on Sunday July 8 2018. Offer open to International Readers. Good luck!