GIVEAWAY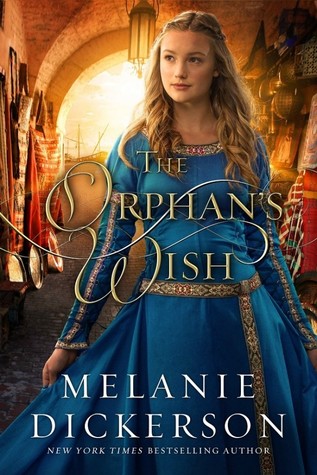 DICKERSON, MELANIE
THE ORPHAN'S WISH
Orphaned and alone, Aladdin travels from the streets of his Arab homeland to a strange, faraway place. Growing up in an orphanage, he meets young Lady Kirstyn, whose father is the powerful Duke of Hagenheim. Despite the difference in their stations, Aladdin quickly becomes Kirstyn's favorite companion, and their childhood friendship grows into a bond that time and opposition cannot break.
Even as a child, Aladdin works hard, learning all he can from his teachers. Through his integrity, intelligence, and sheer tenacity, he earns a position serving as the duke's steward. But that isn't enough to erase the shame of being forced to steal as a small child -- or the fact that he's an orphan with no status. If he ever wants to feel equal to his beautiful and generous friend, Kirstyn, he must leave Hagenheim and seek his fortune.
Yet once Aladdin departs, Lady Kirstyn becomes a pawn in a terrible plot. Now, Aladdin and Kirstyn must rely on their bond to save her from unexpected danger. But will saving Kirstyn cost Aladdin his newfound status and everything he's worked so hard to obtain?
An enchanting new version of the well-know tale, The Orphan's Wish tells a story of courage and loyalty, friendship and love, and reminds us wat 'family' really means.
My Review:
Only Melanie Dickerson could bring Aladdin to Medieval Germany and pull it off! Love the diverse aspect of an Arabian hero. Orphaned at a young age, Aladdin is rescued from a life of thieving and brought to a kingdom...er dukedom...that Dickerson fans are very familiar with. Love that the author included childhood details in this retelling and we get to watch both Aladdin and Kirstyn grow up -- and into deep friendship -- at the beginning of the story. And then, as in all good fairy tales, danger and mayhem threaten a budding romance as a nefarious villain seeks misguided vengeance.
The perfect summer read for the Young Adult in your life -- or the young-at-heart reader who still gets a kick out of YA literature (waves hand in the air enthusiastically.)
GIVEAWAY OPPORTUNITY:
If you would like a chance to win a copy of The Orphan's Wish, leave a comment below or email me at kavluvstoreadATyahooDOTca. If you add your email to a comment, remember to use AT and DOT instead of @ and . in order to protect yourself from spammers. If you enter the draw via email, please add the title to the subject line so it's easy to spot your entry. Draw will be held and winner announced on Sunday July 22 2108. Offer open to International Readers. Good luck!