GIVEAWAY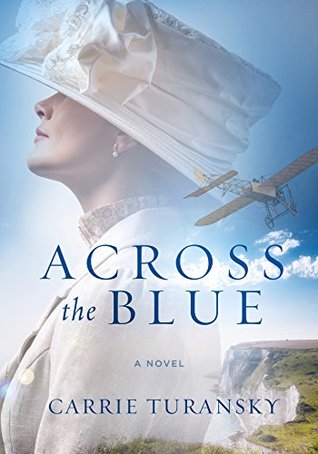 TURANSKY, CARRIE
ACROSS THE BLUE
Before 1909, flying across the Englsh Channel seemed an impossible feat -- but a brave young aviator was willing to try.
Defying her parents' expectations for a good match? Also impossible -- but Isabella was willing to try.
Within the palatial surroundings of her family's Edwardian estate, Isabella Grayson longs for something more. Despite her father's success as a newspaper baron and her own journalistic talents, her parents want her to marry an established aristocrat to improve the family's social standing rather than pursue her dream of writing for one of her father's newspapers.
When aspiring aviator James Drake crashes his flying machine on the Grayson's expansive grounds, he is surprised to learn he landed on the property of the very man who is sponsoring the race to fly across the English Channel -- a race James is desperate to win. And although Bella's striking beauty and intellect captures his attention, James must remain focused on his goals if he has any hope of building an honorable reputation apart from his parents' shameful past.
As the race draws closer unexpected events threaten to turn Bella and James's world upside down, will their love and faith be strong enough to help them overcome the challenges ahead?
My Review:
Another fabulous Downtwon Abbeyish historical romance from Carrie Turansky! And what a fascinating time period, though I must confess it isn't my favourite for storytelling. And that's because I'm a tenderhearted reader and I know that these characters are just five years away from World War I and that is going to drastically alter the happily ever after they worked so hard for. Sniffle. But I'm trying to be brave and bask in the sweet romantic bliss of 1909 with blinders on. :-)
But I have to admit it is an enthralling time for an independent thinking woman to be coming into her own. And Bella certainly has a streak of independence which exasperates her parents no end. She is caught within the confines of a strict social order that's already beginning to show cracks. New money versus titled aristocracy. The Graysons are new money and they want their daughters to bring them social standing through marriage to nobility. And Bella has already had two seasons to make that happen. Her mother is determined that this third will be her last. Bella is just as determined to pursue a journalistic career.
James is an orphan who doesn't even know who his father is! And though he has ambitions to establish his own aviation company, he doesn't even have the funds to repair the flying machine he just crashed on Broadlands property. Definitely not son-in-law material for the Graysons. But something sparks between Bella and James the first time they meet and Turnasky weaves together a story of hope, resilience and faith.
Loved all the historical aviation details. Those early aviators were equal parts crazy and brave! And the race to cross the Channel had me on tenterhooks. Such a contrast between society balls and Mrs. Grayson's matrimonial ploys. Gah, but I wanted to shake that woman until her teeth rattled! And Mr. Grayson isn't much better -- especially since he's a self-made businessman. You'd think he could understand and appreciate James, but no, he wants someone more socially acceptable for Bella. Just see how that works out for you, Mr. Grayson. Pfffft! (I tend to get indignant on behalf of my characters.)
And did I mention the mystery? A little family intrigue never hurt a storyline and this one is superb. Plus there's a super sweet secondary romance to delight in. It really doesn't get any better than that, does it?
GIVEAWAY OPPORTUNITY:
If you would like a chance to win a copy of Across the Blue, leave a comment below or email me at kavluvstoreadATyahooDOTca. If you add your email to a comment, remember to use AT and DOT instead of @ and . in order to protect yourself from spammers. If you enter the draw via email, please add the title to the subject line so it's easy to spot your entry. Draw will be held and winner announced on Sunday June 10 2018. Offer opent o International Readers. Good luck!