GIVEAWAY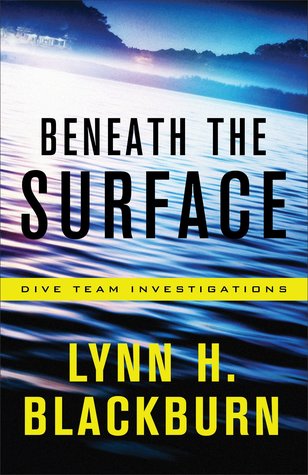 BLACKBURN, LYNN H.
BENEATH THE SURFACE
She thought she'd be safe when she moved back home. She was dead wrong.
After a harrowing experience with an obsessed patient, oncology nurse practitioner Leigh Weston needed a change. She thought she'd left her troubles behind when she moved home to Carrington, North Carolina and took a job in the emergency department of the local hospital. But when someone tampers with her brakes, she fears the past has chased her down and reaches out to her high school friend turned homicide investigator, Ryan Parker, for help.
Ryan finds satisfaction in his career, but his favorite way to use his skills is as a volunteer underwater investigator with the Carrington County Sheriff's Office dive team. When the body of a wealthy businessman is discovered in Lake Porter, the investigation uncovers a possible serial killer -- one with a terrifying connection to Leigh Weston and deadly implications for them all.
My Review:
Eep! Squeal!! Thud!!! I'm in a discombobulated frenzy of excitement over this new series by Lynn H. Blackburn. Not only am I smitten by
Beneath the Surface
, but I'm all aflutter just contemplating the future
Dive Team Investigations
books! That's because Blackburn has done an incredible job of introducing team members with unique personalities that already have me clamoring for answers. Like what's up with Gabe and Anissa?! Inquiring reader minds want to know, Ms. Blackburn!
There is so much to love about this book but I'll get the one big negative out of the way first before I start waxing poetic. Ready? The worst thing about this romantic suspense is that the pages run out! Like, seriously, I'm blissfully reading along alternately swooning and cringing and occasionally shoulder-checking when -- snap -- just like that, it's over. Way too soon, even if the ending is all toe-curling sweetness. Insert disgruntled sigh here (heavy enough to cause my bangs to stand up on end.).
At least the author leaves us with a glimpse into what's coming up in
In Too Deep
which provides some consolation and not a small amount of anticipatory hyperventilating! If you love the kind of romantic suspense series written by Dani Pettrey, Lynette Eason and Irene Hannon, you are going to become a huge Lynn H. Blackburn fan!
So, the things I love about this book. The fact that Leigh is Chinese American because I am looking for diversity in my fiction. She's a spunky nurse with a huge heart for her patients. And she's been harboring a secret crush on Ryan since her brother used to bring him home in their high school days. That's a great foundation for building a realistic romance in the midst of danger and intrigue. Especially since Ryan was interested in Leigh way back then too!
And I love the way Blackburn balances the romance and the suspense with flashes of team camaraderie and humour. I soaked up every delicious word! And the dive team angle is a refreshing addition to this genre. This is the kind of story it's easy to get immersed in -- ha! no pun intended. A taut and gripping pager-turner I found impossible to put down...even when I reached the end!
Book provided courtesy of Baker Publishing Group and Graf-Martin Communications Inc.
GIVEAWAY OPPORTUNITY:
If you would like a chance to win a copy of Beneath the Surface, leave a comment below or email me at kavluvstoreadATyahooDOTca. If you add your email to a comment, remember to use AT and DOT instead of @ and . in order to protect yourself from spammers. If you enter the draw via email, please add the title to the subject line so it's easy to spot your entry. Draw will be held and winner announced on Sunday April 22 2018. Offer open to International Readers. Good luck!