GIVEAWAY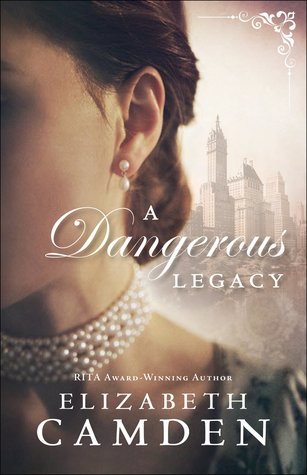 CAMDEN, ELIZABETH
A DANGEROUS LEGACY
Telegraph operator Lucy Drake is a master of Morse code and has made herself a valuable asset to the Associated Press news agency. But the sudden arrival of Sir Colin Beckwith at rival British news agency Reuters puts her hard-earned livelihood at risk. Colin is talented, handsome, insufferably charming -- and keeping a secret that jeopardizes his reputation.
Despite their rivalry, Lucy can't deny that Colin has the connections she needs to give her family an edge in the long legal battle they've been waging over their rightful inheritance. But when she negotiates an unlikely alliance with him, the web of treachery they dive into proves to be far more dangerous than they ever could have known.
My Review:
There is something so decadent about an edge-of-you-seat suspense paired with historical romance! And this one is riveting. Deeply intricate story threads woven into a complex pattern of loss and greed and vengeance. A villian who has
"...no soul and that let him fight with the single-minded zeal of a jackal."
(p 12) and a heroine determined to stand up for what is right and just though it alters the course of her life in devastating ways. A family legacy of sorts that has ensnared both Lucy and her brother. The layered depths in the suspense is exceptionally well done. Enthralling historical details -- telegraphy, Morse code, the early days of international news reporting and homing pigeons! Diverse and captivating and all of it plays an important role in this romantic suspense.
Lucy is a grounded working girl -- independent by necessity but also by choice. She loves her job as a telegrapher and is fiercely loyal to the Associated Press. Which makes for some spectacular fireworks when rival company Reuters imports British aristocracy to manage their New York office. Enter Sir Colin Beckwith and let the toe-curling begin. As well as the laughter thanks to the wicked banter this adversarial hero and heroine engage in on a daily basis.
If you look 'pager-turner'up in the dictionary you should find
A Dangerous Legacy
as the definition. I inhaled this book. Actually woke up at four in the morning and rejoiced because that meant I got to spend two blissful hours reading before I had to get ready for the day! Definitely one for the long-time keeper shelf!
Book provided courtesy of Baker Publishing and Graf-Martin Communications Inc.
GIVEAWAY OPPORTUNITY:
If you would like an opportunity to win a copy of A Dangerous Legacy, leave a comment below or email me at kavluvstoreadATyahooDOTca. If you add your email to a comment, remember to use AT and DOT instead of @ and . in order to protect yourself from spammers. If you enter the draw via email, please add the title to the subject line so it's easy for me to spot your entry. Draw will be held and winner announced on Sunday December 17 2017. Offer open to International Readers. Good luck!