GIVEAWAY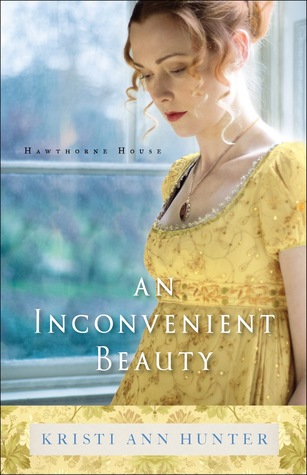 HUNTER, KRISTI ANN
AN INCONVENIENT BEAUTY
Griffith, Duke of Riverton, likes order, logic, and control, so he naturally applies this rational approach to his search for a bride. While he's certain Miss Frederica St. Claire is the perfect wife for him, she is strangely elusive, and he can't seem to stop running into her stunningly beautiful cousin, Miss Isabella Breckenridge.
Isabella should be enjoying her society debut, but with her family in difficult circumstances, she has no choice but to agree to a bargain that puts her at odds with all her romantic hopes -- as well as her conscience. And the more she comes to know Griffith, the more she regrets the unpleasant obligation that presents her from any dream of a future with him.
As all Griffith's and Isabella's long-held expectations are shaken to the core, can they set aside their pride and fear long enough to claim a happily-ever-after?
My Review:
Swoonworthy Regency Alert! Dust off those fainting couches and grab your smelling salts because at long last it is the Duke of Riverton himself who is destined for romance. And what a deliciously decadent though bittersweet read this one is. That's because
An Inconvenient Beauty
is the last book in the
Hawthorne House
series. I'm currently inconsolable over this dastardly fact. Luckily I'm still basking in the warm glow of Regency euphoria brought upon by this spectacular grande finale.
No worries if you haven't read the first three books -- this easily reads as a standalone. But, if you are a Kristi Ann Hunter fan, you will love her all the more for the exquisite details she brings to this last story. Griffith's siblings and their spouses are all present and accounted for. In fact, the author has done a tremendous job of weaving diverse personalities together in an incredible series climax.
We have Griffith, the staid duke and eldest son, burdened with leadership at a very young age, actually seeking out his younger siblings for advice. Riotous scenes with all the brothers (I'm including in-laws here) giving him such a hard time along with some sage advice on courtship. And at his most dire moments he seeks out the women in his family where his woes are spun into comedic masterpieces as all things female clearly befuddle him. I laughed and cried and raged my way through the pages of this book.
Griffith is determined that his brain will lead his heart in his quest for a wife. To this end he has spent a year --
a year!
-- studying and researching a certain lady to ensure suitability. Because he firmly believes that:
"By applying a little logic to the situation, he would have no problem finding love with someone who wouldn't throw his life into utter chaos and put him through complete turmoil before finding his way to happiness."
(p 65)
Yeah, right, cue the chaos! And it comes in the form of his 'intended's' cousin. Conflicted and intrigued, Griffith finds himself drawn to Isabella who is the exact opposite of his 'ideal wife' candidate. Witty dialogue, heated...make that scorching...glances across a crowded ballroom and all the machinations of polite society in the early 1800s make this a Regency page-turner of the highest class.
GIVEAWAY OPPORTUNITY:
If you would like a chance to win a copy of An Inconvenient Beauty, leave a comment below or email me at kavluvstoreadATyahooDOTca. If you add your email to a comment, remember to use AT and DOT instead of @ and . in order to protect yourself from spammers. If you enter the draw via email, please add the title to the subject line so it's easier for me to spot your entry. Draw will be held and winner announced on Sunday December 31 2017. Offer open to International Readers. Good luck!