GIVEAWAY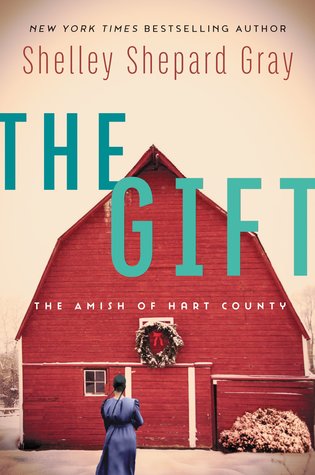 GRAY, SHELLEY SHEPARD
THE GIFT
New York Times bestselling author Shelley Shepherd Gray gifts us with a special Christmas story about love and blessings in this next book in her Amish of Hart County series.
The Schwartz family is happy to be spending Christmas on their new farm in Hart County. But when Susanna Schwartz hears gunshots that cause her buggy to overturn, and then her little sister falls through a wooden bridge into an icy creek, it becomes clear from these dangerous "accidents" that someone wants the family gone.
Neil Vance has been heartbroken ever since his parents lost their family farm. He knows it's not the Schwartz family's fault, but he can't help but be resentful...until he meets Susanna. She is kindhearted and bold, and Neil can't stop thinking about her pretty green eyes.
While Neil believes the accidents are just chance, Susanna's father is convinced that the Vance family is responsible. yet Susanna can't imagine Neil would do anything to harm her. She's fallen in love with him and knows he is a good man. But her family is ready to pack up and move, and time is running out in uncover the truth before someone gets hurt...or worse.
My Review:
Reading a Shelley Shepard Gray book is like a glorious homecoming. There's comfort and familiarity paired with the unexpected of a new story. The thrill of discovery spikes my anticipation and once I start reading I can't stop until I reach the end. Which is exactly what happened with
The Gift
. Consumed in one sitting followed by the letdown of having finished far too soon.
The suspense is subtle -- a series of unexpected accidents that no one wants to take seriously except for Susanna and her sisters. And they are already adjusting to a difficult transition to their new home in Hart County. Unearthing the reason behind the surprising hostility the Amish community harbors against them is just the beginning of the mystery.
Neil and Susanna's friendship gets off to a rocky start. It's Neil who has to dig deep and reflect on the emotions that fuel his anger and ultimately his behavior. It's a powerful awakening that brings depth to the story. There's also a surprise (and very sweet) secondary romance All woven into a suspenseful plot that kept me turning pages.
Amish + Suspense + Christmas = a dream of a read!
My thanks to Avon Inspired and Litfuse Publicity Group for providing me with a copy of this book.
GIVEAWAY OPPORTUNITY:
If you wold like a chance to win a copy of The Gift, leave a comment below or email me at kavluvstoreadATyahooDOTca. If you add your email, remember to use AT and DOT instead of @ and . in order to protect yourself from spammers. If you enter the draw via email, please add the title to the subject line so it's easy for me to spot your entry. Draw will be held and winner announced on Sunday December 10 2017. Offer open to International Readers. Good luck!