GIVEAWAY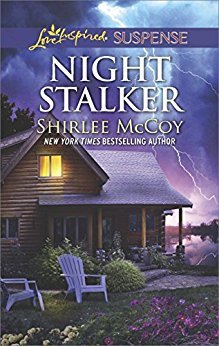 MCCOY, SHIRLEE
NIGHT STALKER
A serial killer is on the loose...in the first book in Shirlee McCoy's FBI: Special Crimes Unit series.
After Special Agent Adam Whitfield's e-wife is nearly killed when she stops an abduction, the serial killer that Adam's been hunting turns his focus on Charlotte Murray for getting in his way. Now, as the Night Stalker closes in, Adam has two missions: bring the murderer to justice and save Charlotte -- because failure isn't an option.
My Review:
A breathless wonder of a read! Honestly, the yearning between Adam and Charlotte is palpable in every scene. I ached right along with them and read most of the book with a lump in my throat. Their love story was...is...might be again. Achingly tender. Deeply broken. Splintered by tragedy. I just can't even...Phew, one of the best second chance at love stories I've ever read. Sniffle.
And then there's the scary stalker suspense thread. Hair-raising, but not overdone. Creepy enough to check that your doors and windows are locked but not enough to sleep with a baseball bat. :-) And McCoy introduces her readers to an intriguing group of law enforcement professionals that make up this Special Crimes Unit which promises more exciting reading ahead for romantic suspense fans! I can't wait!
GIVEAWAY OPPORTUNITY:
If you would like a chance to win a copy of Night Stalker, leave a comment below or email me at kavluvstoreadATyahooDOTca. If you add your email to a comment, remember to use AT and DOT instead of @ and . in order to protect yourself from spammers. If you enter the draw via email please add the title to the subject line so it's easy for me to spot your entry. Draw will be held and winner announced on Sunday March 11 2018. Offer open to International Reader. Good luck!