GIVEAWAY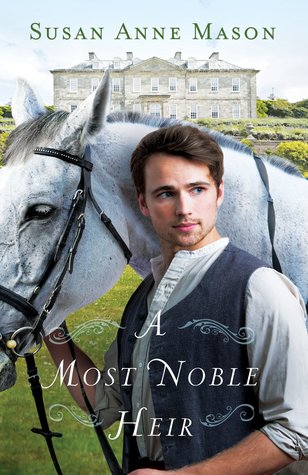 MASON, SUSAN ANNE
A MOST NOBLE HEIR
Will gaining the world cost him everything he holds most dear?
When stable hand Nolan Price learns from his dying mother that he is actually the son of the Early of Stainsby, his plans for a future with kitchen maid Hannah Burnham are shattered. Once he is officially acknowledged as the ear's heir, Nolan will be forbidden to marry beneath his station.
Unwilling to give up the girl he loves, he devises a plan to elope -- believing once their marriage is sanctioned by God that Lord Stainsby will be forced to accept their union. However, as Nolan struggles to learn the ways of the aristocracy, he finds himself caught between his dreams for tomorrow and his father's demanding expectations.
Forces work to keep the couple apart as every turn, and a solution to remain together seems farther and farther away. With Nolan's new life pulling him irrevocably away from Hannah, it seems only a miracle will bring them back together.
My Review:
I think I squealed when I saw this in the bookstore and my heart did a little happy dance but I played it uber cool as I made my purchase. That lasted until I got out the door whereupon I skippedy-dooed my way to the bus stop and pulled out
A Most Noble Heir
and commenced reading. And missed my bus but I didn't even care because, well, I had a new book friend to pass the time with until the next one came. And my, did that cover get a lot of comments from fellow passengers once I finally settled myself on a bus! Because, really, what is not to love about that cover?! Blissful sigh. But, trust me, it's worth pulling your eyes away from that image so you can start devouring Nolan's story.
And this is where it gets hard to review because I don't want to give anything away so forgive me for being rather vague. Let's just say this plot is quite different from what I usually see in historical romance. Mason does an amazing job of creating an emotionally tumultuous love story that kept me turning pages into the wee hours of the morning.
Nolan is a man of integrity. He's also a dreamer and isn't afraid of working hard to make those dreams a reality. But those plans go awry when he discovers the identity of the father he never knew. Be prepared for repeated sucker punches as the plot thickens and chaos reigns for a time. And sweet Hannah is caught up in it all. As will every reader who loses herself in this timeless love story.
As Nolan and Hannah grapple with faith and family and finding the courage to face both head on they discover a deeper meaning to life...and love. And that leads these characters (and the reader) on an unforgettable journey toward a well deserved happily ever after.
Oh -- and back to that cover!!!! It has embossed lettering!!!! Squeallll!!!! I can't even...I'm going in for another book hug.
GIVEAWAY OPPORTUNITY:
BREAKING NEWS: TRIXI HAS OFFERED TO SHARE HER COPY OF A MOST NOBLE HEIR SO WE WILL HAVE TWO WINNERS! WOOHOO -- THANK YOU TRIXI.
If you would like a chance to win a copy of A Most Noble Heir, leave a comment below or email me at kavluvstoreadATyahooDOTca. If you add your email to a comment, remember to use AT and DOT instead of @ and . in order to protect yourself from spammers. If you enter the draw via email, please add the title to the subject line so it's easy for me to spot your entry. Draw will be held and winner announced on Sunday March 4 2018. Offer open to International Readers. Good luck.