GIVEAWAY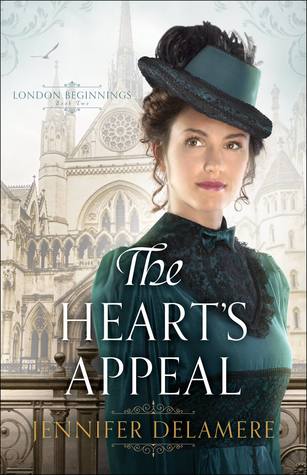 DELAMERE, JENNIFER
THE HEART'S APPEAL
London 1881
He never expected to see her again. Then she appeared with a most unexpected request...
Strong-minded and independent, Julia Berney has come to London to study medicine and become a doctor -- a profession that has only just opened up to women. When she witnesses a serious accident, her quick action saves the life of an ambitious young barrister named Michael Stephenson. It's only later that she learns he could be instrumental in destroying her dreams for the future.
Coming from a family that long ago lost its status, Michael Stephenson has achieved what many would have thought impossible. Hard work and an aptitude for the law have enabled him to regain the path to wealth and recognition. His latest case puts him in the middle of a debate over the future of a women's medical school. He's supposed to remain objective, but when the beguiling and determined Julia reappears with an unexpected entreaty, he begins to question what he's made most important in his life. But Julia may be hiding her own motivations. As the two are tangled into spending more time together, will their own goals be too much to overcome?
My Review:
I fell in love with the Bernay sisters in
The Captain's Daughter
(the first book in the
London Beginnings
series) so I was thrilled to my toes when
The Heart's Appeal
made it's way into my TBR pile -- though not for long since I gobbled it up right away! Delamere has a talent for creating vivid images that make a reader feel like she's living the book rather than merely reading it. I also love the way she weaves real facts into her fiction. We get a grim look into the seedier side of London as well as the infuriating obstacles women faced as they fought for the rights we take for granted in this century.
I don't think I've read about a hero and heroine so diametrically opposed in nearly every way! Their chance encounter is ingenious and opens the door for so many delicious dilemmas. Julia, so set on missionary work in Africa once she's completed her medical schooling. So driven by her own ambitious objectives that she's in danger of overlooking God's plans in her rush to follow her own. And Michael is driven by his desire to reclaim family status -- in fact it almost consumes him out of a misplaced loyalty to his sister. He's definitely a 'modern' man with no need of spiritual guidance.
And yet there's no denying the spark of interest that isn't easily doused whenever these two get together. As guards are lowered, attraction grows despite the impossibility of their situation. She has every intention of becoming a student at the women's medical school his client is intent on destroying. I honestly couldn't see a way out for Michael or Julia -- not without major concessions that seemed unfair. But Delamere cleverly weaves a stunning tale of love and sacrifice and the power in unwavering faith.
GIVEAWAY OPPORTUNITY:
If you would like a chance to win a copy of The Heart's Appeal, leave a comment below or email me at kavluvstoreadATyahooDOTca. If you add your email to a comment, remember to use AT or DOT instead of @ and . to protect yourself from spammers. If you enter the draw via email please add the title to the subject line so it's easy to spot your entry. Draw will be held and winner announced on Sunday April 1 2018. Offer open to International Readers. Good luck!