GIVEAWAY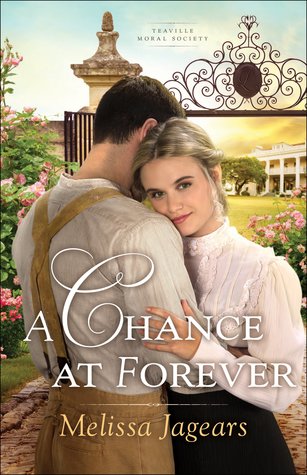 JAGEARS, MELISSA
A CHANCE AT FOREVER
Determined to protect the children of Teaville, Kansas, from the bullying she experienced as a child, Mercy McClain finds fulfillment working at the local orphanage and serving on the school board. When Aaron Firebrook, the worst of her childhood bullies, petitions the board for a teaching position, she's dead set against his getting the job.
Aaron knows he deserves every bit of Mercy's mistrust, but he's returned to his hometown a changed man and is seeking the forgiveness of those he wronged. He doesn't expect Mercy to like him, but surely he can prove he now has the children's best interests. at heart.
Will resentment and old wounds hold them back, or can Mercy and Aaron overcome the past in time to battle the threats against the future of the town's orphans?
My Review:
A blockbuster ending to a spectacular series! Each book has made me think and evaluate and even squirm a wee bit as Jagears examines all aspects of charity.
A Chance at Forever
reads beautifully as a standalone novel but I highly recommend the entire series.
I've been waiting for Mercy's story. Love her name and how she tries to live up to it, though sometimes it's annoying to have that constant reminder -- especially when she is confronted by her childhood nemesis. Aaron was an uncaring bully back then and she can't forget his cruel taunts. Worse, she can't find it in her to forgive him now that he's returned to Teaville.
Aaron has come back to make amends to the community he terrorized as a troubled youth. He is the stuff swoonworthy heroes are made of. Penitent, strong in a new found faith, he doesn't flinch from facing his past and trying to make it right. And Jagears does an exceptional job of slowly peeling back the layers that make up this complicated man. I was cheering him on from the very first page where he's nervously waiting to be interviewed for a teaching position and I fell a little more in love with him with every page turn.
Which means I was some put out with Mercy for a lot of the book because she is stubbornly refusing to acknowledge the kind and decent man Aaron has become. She's always looking for an angle, waiting for him to morph back into a bully. She's quick to judge and her suspicions about drove me crazy but Aaron patiently bears it all. See what I mean about hero material?
So there's this central theme of forgiveness --- the power we hold over someone by refusing to extend it and the peace that's possible when it's offered freely and completely. It plays over and over again in the lives of different characters -- not just our hero and heroine. Love that continuity -- the way their combined stories brought me deeper into this aspect of my faith.
And then it was over all too soon. And even though the author provides a delightful epilogue that gives us a glimpse into the futures of all the heroes and heroines in this series, I'm still left aching for more! Which is a sign of great storytelling I suppose, though a little frustrating for an avid reader like me. :-) Can't wait to see what Melissa Jagears comes up with next!
Book provided courtesy of Baker Publications and Graf-Martin Communications.
GIVEAWAY OPPORTUNITY:
If you would like a chance to win a copy of A Chance at Forever, leave a comment below or email me at kavluvstoreadATyahooDOTca. If you add your email to a comment, remember to use AT and DOT instead of @ and . in order to protect yourself from spammers. If you enter the draw via email, please add the title to the subject line so it's easy to spot your entry. Draw will be held and winner announced on Sunday May 12 2018. Offer open to International Readers. Good luck!