GIVEAWAY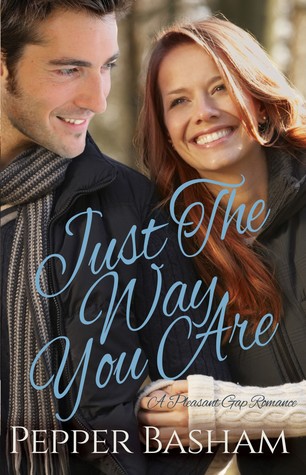 BASHAM, PEPPER
JUST THE WAY YOU ARE
Mountain girl, British boy, and a culture clash of epic proportions
Single mom, Eisley Barrett, prefers to keep romance safely housed within a centuries-old mystery, but when she travels to England at her uncle's dying request to unearth the truth, she never expects to tumble into her own fairytale.
Leading man and reformed rogue, Christopher Wesley Harrison, is fighting to build a new reputation after tragedy introduced him to the power of redemption. His hardened cynicism and his self-protective avoidance of romance crumbles at Eisley's two left feet, and sends his heart into unscripted territory.
When his past threatens to ruin his second chance at love, can some Appalachian matchmaking, some adorable kids, big-family antics, and letters from the grave salvage their unexpected romance?
It's a Britallachian romance sprinkled with humor, romance, mystery, and a little bitof magic.
My Review:
Warning: reading this book is likely to induce extreme chocolate cravings. Read at your own risk...and make sure to have a chocolate stash on hand! Because hero Wes is "
Ghirardelli in human form."
(p 12) Honestly, I don't know which had me swooning more - Wes or all the chocolate references. Either way, a fainting couch is a definite requirement to get a sensitive reader safely through to the end. :-)
And this is the kind of book you don't want to read because if you do it will be over. Yeah, I know that doesn't make much sense but here's the conversation I had with myself the whole read
Me:
Slow down! You're reading too fast!
Myself:
But it's so good!!!!! I can't help myself.
Me
: Keep it up and you're gonna reach the end way too soon.
Myself:
Gasp!
Me:
I know - see that's what I'm sayin'! This good read is going to be over before it's begun.
Myself:
Not if I stop and reread the good bits...that way I can savor it longer.
Me:
Brilliant! That will slow you down some without interfering with your reading pleasure.
Myself:
Right. So at the end of every chapter, I'll go back and read over the good bits.
Me:
Hmmm...in other words, you're gonna read each chapter all the way through twice?
Myself:
((blissful sigh) Pretty much. This is going to be fun!
Brilliant and witty and soooo relatable. Eisley especially. Adorably klutzy (and really, it's time we kltuzes had a heroine to look up to!) and so refreshingly funny. She can't seem to stop turning her inner most thoughts into spoken-out-loud sentences at the most inopportune times with delightful results. I belly laughed so much I'm thinking of adding this book to my fitness regimen -- my obliques got way more of a workout with Eisley then doing sit-ups!
And then there's redeemed rogue Wes...as yummy as all the chocolate comparisons Eisley thinks up to describe him. Their hysterical first meet sets the tone for the whole story - though he doesn't stay that grumpy for long thanks to the whimsical Miss Eisley.
As a fairly new Christian, Wes has sworn off romance. He's still coming to grips with the tragic results of his former hard-hitting lifestyle. Which is totally in sync with Eiseley's determination to avoid real life romance at any cost. Been there, done that and doesn't trust herself to go there again. Ha! These two were made for each other and Basham sets out to prove it with toe-curling perfection. Seriously, plug in the fans, grab some ice packs and be prepared to s-w-o-o-n!!!!
But this romantically euphoric read has even more to offer with a compelling inspirational thread that was pointed directly at me. Seriously - Eisley battles with fear and doubt even though her faith is strong. And yes, that does seem like an oxymoron but since I'm going through the exact same thing, I totally get how it works! I've been so uplifted by this story!
And I haven't even touched on Eisley's zany Appalachian clan or the intriguing centuries old mystery or the obnoxious secondary character that I wanted to throttle or...well, this review is too long as it is. Best way to sum it all up:
Romantic Comedy that sizzles!
GIVEAWAY OPPORTUNITY:
If you would like a chance to win a copy of Just the Way You Are, leave a comment below or email me at kavluvstoreadATyahooDOTca. If you add your email to a comment, please remember to use AT and DOT instead of @ and . in order to protect yourself from spammers. If you enter the draw via email, please add the title to the subject line so it's easy to spot your entry. Draw will be held and winner announced on Sunday May 13 2018. Offer open to International Readers. Good luck!